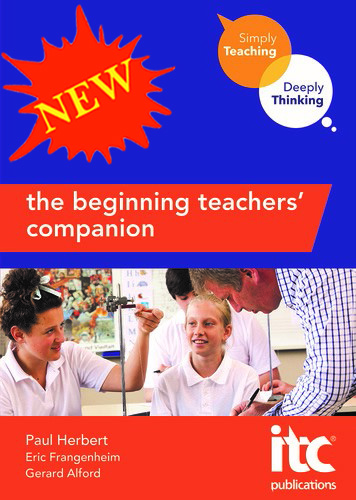 If you are about to embark on your teacher training or are a principal assisting your newest staff members, the Beginning Teachers' Companion is there for you.
A must for any beginning teacher.
Beginning Teachers' Companion
---
Price: $29.95, add $15.00 for postage & handling
for the first copy, plus $3.00 per additional copy
Written for those starting their teaching careers, the Beginning Teachers' Companion explores the vital areas for successful induction into the classroom and the profession.
Answering the fundamental question.
Why are your students going to be better off because you are their teacher?
Good teacher or good teaching.
Understand the importance of teaching practice in making a real difference.
Creating the quality learning environment.
What should you be considering when you enter your first classroom?
Your teaching and learning methodology.
Understand the importance of developing your personal pedagogy. Introducing a thinking skill framework.
Lesson structure, delivery and planning.
Explore a template based on an Explicit Instruction Model for planning your lessons.
Giving feedback and guidance.
Review your practice. How should it be done.
Written after extensive consultation with the teacher training sector, the Beginning Teachers' Companion provides a practical examination of the skills of teaching.